Wednesday, January 18, 2006
World Wednesday
A friend of mine told me about this and I have no idea where she got it from so no credit to list, and since she no longer blogs I can't credit her either.... but I figured I would give it a go since I love to travel!!!
World Wednesday.... a place in the world I have been or want to see to share with you all.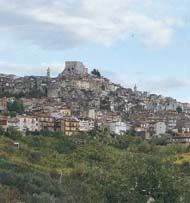 This is Guardia Sanframondi. A small town and comune located in Italy in the Province of Benevento in Campania Region.
One of my loves is genealogy. I have been researching my family history and King Papa Bear's family history for years! My grandmother's family is from this small town - The Pizza Family (not pizza, but pronounced pie-za) and The DeBlasio Family. She used to tell stories of the mountainous town known as "The Guard" that she heard from her mother and father as a child. She never made it to see Italy before she died.
I have never been there, and neither has anyone in my family that I am aware of, but I am awaiting the day I get to walk through the old town up stepped streets and see the Castle above the town that was used as a guard post during war. Or when I get to witness their penitential rite ceremony of the Madonna and Child statue found in a field hundreds of years ago. Or even visit and sample from the wineries! :) Most of all I want to view the family records kept in the town hall to learn more about my family.
Do tell me... where in the world do you want to go????
Posted By Melanie @
9:41 AM
|