Friday, June 16, 2006
My little guys
The
Fabulous Foursome
cuddling on the couch after breakfast enjoying a movie. Notice the baby is the only one dressed for the day so far! Ahh, those summer days...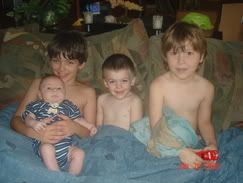 Posted By Melanie @
2:24 PM
|

Comments:
I love those quiet moments when the kids are at their cutest. Doesn't happen as often as we'd like, but that only makes the times that they do that much more precious.
What an adorable photo!
Post a Comment